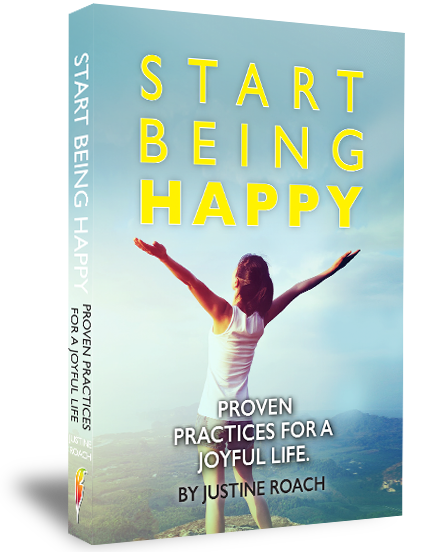 "I just finished your book and absolutely Ioved it! I am going to start practising all the techniques today! I think your book will be life-changing for a lot of people – including me."
– B Fernando, Melbourne, Australia
Are you feeling stuck, frustrated or dissatisfied?
Are you looking to live a happy and contented life?
If so, this is the happiness handbook you'll wish you read years ago!

Start Being Happy! Proven Practices for a Joyful Life is your step by step guide to living a happier life.

Delivering ancient wisdom via a modern, engaging dialogue, this book comes from the heart and reflects a truly life changing philosophy.
This personal and practical guide will quickly capture your attention and interest, showing you surprisingly unique yet strong steps towards improving the quality of your daily life. Super easy to read, the techniques are summarised in short, easily accessible chapters so you can pick the book up and peruse whatever chapter is most pertinent in any given moment.
Start Being Happy! Proven Practices for a Joyful Life empowers us to create positive and permanent change in our lives.
Testimonials
It is a wonderful book. Warm, compassionate, raw, personal, honest, thoughtful and, most of all, helpful – written in a most accessible way, so the reader is caught up with the ideas and the practical advice, without being distracted by lengthy theoretical explanations.
Dr Paul Power, PhD
─ Richmond, Australia
I've read the first 24 pages and so far I'm hooked, it's like you're reading my mind!
Jude Darminin
─ South Yarra, Australia
I just finished reading the book and absolutely loved it! It is beautifully written and so enlightening. I'm going to start practicing all the techniques today! I think the book will be life-changing for a lot of people – including me
Bridget Fernando
─ Glen Iris, Australia
I finished the book last night – it is simply great, and greatly simple. It's so accessible and the logic and sequence made it a page turner!
Bernadette Ryan
─ Southbank, Australia
It is brilliant. I love the clarity and honesty of her amazing journey. This is such a wise yet unpretentious guide. I am looking forward to purchasing a number of copies to share with my family.
Julie Butcher
─ Albert Park, Australia
WOW! You should be so proud of this book. It is so insightful, honest and relatable. Have read many self-help books that go into way too much detail, this is the perfect amount of information with great options for people to delve further if they wish. Bravo!!!!"
Cynthia Capp
─ Toorak, Australia
See all our testimonials
Happiness Delivery!
Sign up here and receive our happy, inspirational news, straight to your inbox!
Congratulations to Helen Shepherd of Clifton Hill, Victoria who was the winner of the Start Being Happy competition. She now has the chance to win $10,000.


You can still start your journey to happiness, grab a copy of the book here.