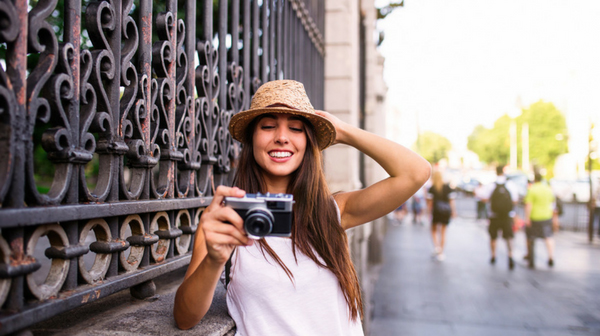 Be a tourist in your own home town – it'll revive you!
Last year I was lucky enough to go to NYC for nine days and it was one of the best holidays I've ever had.
The restaurants, the bars, the shopping and all of the tourist sites were as wonderful as I had anticipated. What I didn't expect was to fall in love with the people they way I did – they are such enthusiasts! They love their city and they're so proud of all that it is.
I found them so welcoming to anybody and everybody. Every time we sat down at a bar or a restaurant we met an animated American who was more than willing to share recommendations with us. Every store or tourist site was organized with friendly and welcoming efficiency.
And Central Park was a whole new world – a huge, green expanse of nature and people from around the world co-existing beautifully together. There was art, there was music, there was dance, there was baseball, bike riding, roller blading and the magnificent Met gallery – all accessible and free to whoever wanted to join in.
I left there on such a high and determined to explore my home town of Melbourne through the eyes of a tourist so I could enjoy the sense of exploration and excitement on a regular basis and I've loved it.
I'm amazed at how much I had taken for granted and had I not made the decision to reframe my view of Melbourne and start discovering it as a visitor would, I might have missed all of these opportunities for rich experiences and joyful moments.
Don't get me wrong, not all of my choices have been great – African dance was definitely not my forte! But flying along at the front of a fast ferry on Sydney Harbour was amazing. Doing a trail run through King Valley outside of Melbourne as the sun came up was magical, and enjoying a glass of wine in a pop up bar on the Yarra River while I spoke to German tourists was really energizing. The Australian Open was on, the weather was perfect and Melbourne was buzzing with excitement – I would have missed it all if I hadn't decided to try something new every month.
It's so easy to get caught up in our familiar routines and patterns but stepping outside of our comfort zone is worth it because of what we'll find – it can be a really helpful way of reframing or bringing perspective to our lives.Like anything, not all of our experiences will be winners but we are always richer for them.
Open your mind and start participating in life by:
Setting the intention to explore your home town as a tourist
Doing one new activity every month that you've never done before
Sharing your positive experiences with others: positivity breeds positivity
Choosing something beyond your comfort zone – it gives us a sense of pride and achievement;
Recounting your experience in your gratitude journal. Gratitude boosts happiness and you'll be reminded when you go back and read it that you are living a full life!
For more happiness insights, grab a copy of Start Being Happy .