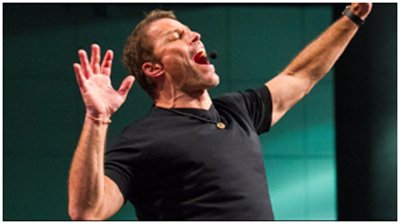 This morning I woke up feeling out of sorts.
Looking for something to snap me out of it, I thought of Tony Robbins who believes emotion is created by motion and that by changing what our bodies are doing, we can alter our brain chemistry and lift our mood.
Robbins recommends taking notice of what our bodies and faces are doing when we're both happy and miserable. Are our shoulders hunched or relaxed? Is our face smiling or scowling? Are we alert or apathetic? Is our voice quiet or loud? Then if we're having a bad moment, we can consciously adopt the positive posture and expressions to make ourselves feel better.
"We all get in lousy psychological and emotional states at times, but when you find yourself in that place, change your body and get in that state." Robbins does all sorts of things to change his frame of mind, including jumping on a mini trampoline or in his tiny plunge pool. Whatever he's doing, it's definitely working for him but as we all know, it's a different ball game if we're not mega successful superstars!
That being said, I think Robbins is onto something – body chemistry is intrinsically linked to our mood so when I'm feeling flat I'll often do something physical first, like a walk or jog or some boxing, to change my attitude.
I might put on some really loud music. I might have a bath. If I've got time I might listen to podcast from Eckhart Tolle or Deepak Chopra which always works to bring me back into balance.
As Oprah says, "one thing I know for sure" is that we can change our mood by changing what we're doing with our bodies.
For more on Robbins see https://www.tonyrobbins.com/mind-meaning/how-to-reset-your-mind-and-mood/
Photo courtesy of Business Insider