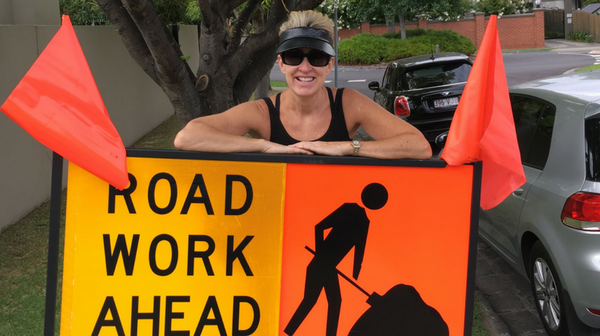 Start Being Happy is a practical roadmap to happiness so I thought this sign, which was right outside our back gate this week, was a perfect photo opportunity!
The reference to the side road reminded me of M Scott Peck's book, The Road Less Travelled, which advocates confronting and consequently solving problems, rather than avoiding them, if we want a richer life.
Leaning in to painful feelings and situations with an attitude of acceptance and curiosity seems counter intuitive, hence being the road less travelled, because our natural inclination is to resist discomfort.
But it's the only path for me.  I always take the side road, even though it's difficult and often really painful, because it is always an opportunity for personal growth. Personal growth creates self-awareness and self-awareness leads to greater joy.
By sitting quietly and really getting in touch with our fears and our sorrows, we'll find we're always taken back to one of four fundamental feelings:
Abandonment
Rejection
Betrayal or
Loneliness
One of these four feelings is always at the core of any emotional disturbance and if we allow ourselves to just sit with the emotion and allow it to be present, rather than worrying about it or resisting it, it will gradually lose its charge and we'll come back to centre. We may need to cry or rage or drop our bundle for a while, but we will always come through.
Similar to The Road Less Travelled, Start Being Happy explores some really practical techniques for effectively processing the emotional pain we all experience and consequently, transforming our lives.
This road to personal growth is definitely not the common road and it's not for the faint hearted because it can be so challenging at times. It takes conscious commitment and courage to welcome every feeling, both positive and negative, but it's oh so rewarding.