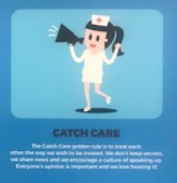 My son's friends laugh when I say please or thank you to Siri or Google Home.
Most of the time I laugh too. I know it's ridiculous but I'm from the generation where please and thank you are as automatic as a sliding door, so it still surprises me when they're missing from daily interactions.
Sitting near the barista while catching up with a girlfriend a couple of months ago, I would have heard twenty coffee orders placed but only three of them were accompanied with a "please".
I assumed this lack of courtesy was the exception, rather than the rule. However, my girlfriend, who is a nurse at a private hospital in one of Melbourne's blue chip suburbs, assured me that her patients are far more likely to make impatient, imperious demands than polite requests.
So, it was with great pleasure that I watched and listened to the interaction between the marketing team at @Catch Group at a meeting recently. They're insanely busy but they're always polite, they're always respectful and they take the time to smile and LAUGH with each other.
As I left the building, I wondered how much of this shared enthusiasm and engagement is due to the huge mission statement which is plastered all over the wall in their office. The wall is covered with catchy (sorry, couldn't resist) phrases and images but none of them are business oriented. Rather, they focus on the importance of kindness in our daily lives and everyone is reminded of this shared goal every time they walk past the wall.
It's nudge theory at its best.
Good manners are a habit so it's all the more important that we follow Catch's lead and integrate reminders to connect and be kind into our own lives and work spaces.
Love to you all, Jx